Maksym Prokhorov CEO & Co-founder at PLATMA
While no-code platforms do not require any programming skills, low-code platforms still require some specific programming skills. However, the advantage of low-code platforms is that they allow developers to work with pre-written code components, which can significantly speed up the software development process.
And Platma combines all the advantages of low and no-code. The platform offers ready-to-use software solutions to help in the quick and easy digital transformation of Small and Medium-sized businesses. So, let's investigate the pros of low-code/no-code solutions and how your business can benefit from them.
Codeless development has an increased demand
Low-code/no-code tools minimize coding efforts and simplify customization.
No-code platforms enable the creating of websites, applications, and services without coding. Instead, they rely on modeling in a graphical interface or assembling using a constructor.
On the other hand, low-code platforms allow developers to use pre-built blocks to develop digital solutions. However, they also still have the option to write code in any programming language manually.
According to Gartner, by 2024, 65% of developed applications will be low-code
In 2017, I performed benchmarking of traditional development (using Java) versus low-code/no-code projects based on models. The results were impressive: when using the low-code/no-code method, performance increased by 5—7 times. A survey conducted by the No-Code Census in 2020 showed a 4.6-times increase in productivity compared to traditional programming.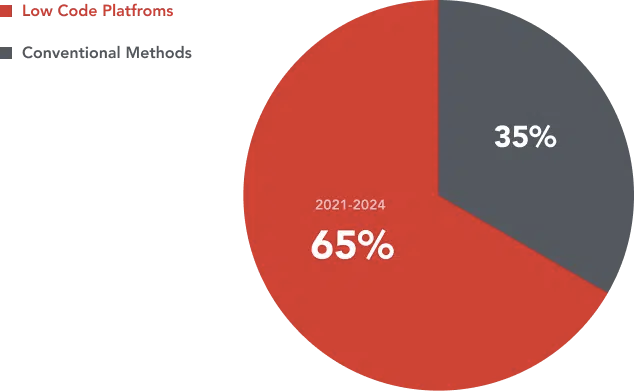 You don't require developers with low-code/no-code. But this is not certain.
Even though the first low-code/no-code solutions existed at the dawn of the 2000s, their demand has grown in the last couple of years. With the outflow of experienced IT specialists a broad, interest in low-code/no-code development and demand for such solutions has enormously increased.
Low-code technologies can not only reduce the crisis in the personnel market in the IT segment but also accelerate the migration of businesses to domestic software.
The barrier to entry into the developer profession is high, and not everyone can do it quickly and on their own. LCNC platforms have a low barrier to entry. Such a situation helps to understand their capabilities rapidly and implement simple but well-developed solutions using automated interfaces, forms, a constructor, and drag-n-drop. Even a starter without any special knowledge or trade education can master these tools.
Low-code/no-code: Platform fragmentation
The low-code/no-code area is complex and includes numerous solutions, platforms, and sub-markets. For example, sub-markets focus on
large, medium, and small enterprises. Low-code/no-code enterprise platforms provide high scalability, performance, security, and integration with enterprise applications. They are usually more expensive than others. Below is the Gartner Magic Quadrant for enterprise low-code platforms: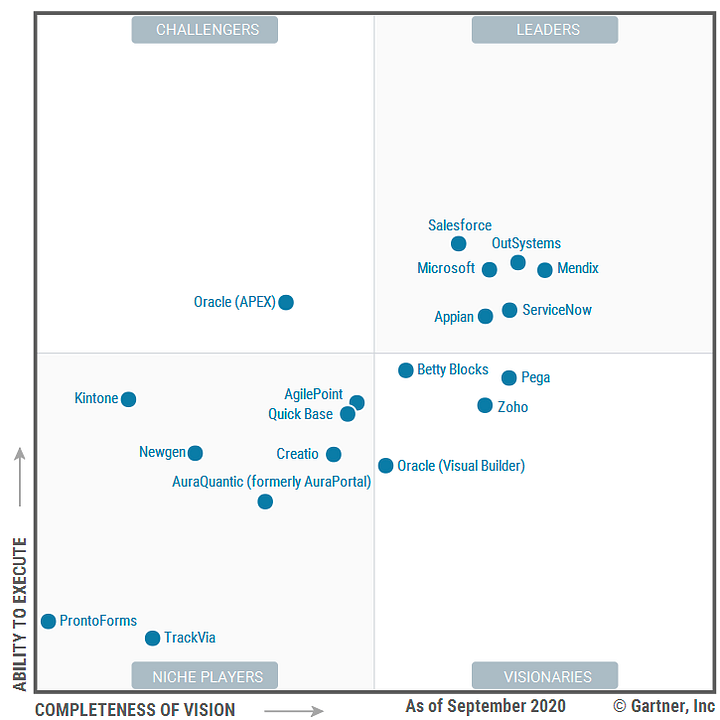 Gartner defines a low-code platform (LCAP) as follows: "It is a platform that supports rapid application development,
one-step deployment, execution, and control using high-level declarative programming abstractions such as model-based and metadata-based programming languages."
G2 offers a similar overview for small businesses. The platform market for small businesses and corporations is identical. Some small business platform providers are less well-known and popular in large corporations. Similarly, SM Bs are generally reluctant to buy enterprise platforms primarily because of their price and complexity.
Not surprisingly, many low-code platforms are business process management platforms. BPM has long supported Model-driven Development, where you need to draw diagrams that explain how software should work before building it. This scheme is similar to the process approach of BPM, in which, to define a business process, it is necessary to arrange the blocks that represent sub-processes in the correct order. (BPM N is the most popular process mapping standard supported by most BPM platforms.)
Therefore, process-oriented solutions are pretty popular. Examples of low-code/no-code platforms for BPM are Appian, Pega, and Outsystems.
A few years ago, some prophets said that very soon, programmers would not be needed, IT specialists would die out, and developers would become an auxiliary specialty. Everything will be done by robots and neural networks.
Years have passed. And without people, without experts, nothing happens. Even if robots or neural networks will help write code in the future, someone should teach them this and, most importantly, set such a task.
It is important to note that even with the development of technology, the role of people has remained the same. On the contrary, the need for competent individuals deeply versed in the topic is only increasing. While robots and neural networks may assist in coding, they still require guidance and direction from experts. Skilled professionals a re still necessary to form tasks, solve problems, and achieve results. Therefore, it is essential to have a workforce with technical and creative skills to ensure the success of any project.